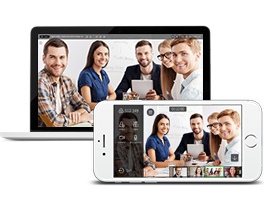 Experience hassle free meetings with RemoteMeeting.
Immediately get together with RemoteMeeting, a simple and instant online meeting solution.
Easy on your funds
Talking to someone directly is often viewed as the best way of communication, and critical decisions are made quicker during face-to-face meetings. However, in a Global Business environment, it is almost impossible to sit in on every meeting happening around the globe. Instead of traveling, replace those trips with RemoteMeeting. Experience this time and cost savings tool, all while feeling as if you are in the same room.
Video conferencing doesn't get any easier than this.
Enjoy simplicity with RemoteMeeting. With the click of one button on the website you can easily create or join a meeting. Avoid any downloads or the trouble of trying to explain to someone how to connect.
Start Connecting Lifestyle
Experience a face-to-face meeting, anywhere. No previous scheduling, no need to book a room. Seamless communication is now possible with RemoteMeeting.
Easy Start
With RemoteMeeting, there is no registration or complicated installation process.
All you need is a camera, a microphone, and your favorite web-browser.
Easily start your RemoteMeeting with just one simple click.
Everything you need
Our Cloud Meeting room has all the tools you'll need.
Take your meetings to the next level with HD quality video, PC screen sharing, document and application sharing, and more.
Mobile friendly
Quickly join and start meetings from your mobile device.
Be more productive and connect anytime, anywhere, with smartphones and tablets.